The way to surf the web.
Striking the perfect balance of privacy and useability.
Waterfox is essentially Mozilla Firefox's code compiled as a 64-bit application for Windows. It includes support for all of Firefox's features including plug-ins, extensions and everything else you expect Firefox to do. Visually, the only different layout feature you might notice is the blue logo. Waterfox/Firefox supports profiles. To view the location of your current profile open about:profiles in the address bar. This page can be useful for recreating a profile that has become prone to crashing by creating a new profile and copying the original/useful files over to the new profile. ⚠ A cleaned up modern profile for Fixed Firefox (Waterfox) will be added to this page. Waterfox is an open-source web browser for x64, ARM64, and PPC64LE systems. It is intended to be ethical and (in Waterfox Classic) maintain support for legacy extensions dropped by Firefox, from which it is forked.
Build up the whole picture
When we do things, we do them well.
Limited Data Collection
Waterfox 64-bit
We try and take the bare minimum amount of information to keep things running smoothly.
No telemetry
We don't need to know what you do within your browser.
Support for Extensions
Waterfox supports the Chrome Web Store, the Opera Web store and the Firefox Store. The most extension support of any browser!
Fan-tab-u-lous
Everyone likes to use their browser in a specific way.
Tab above address bar

Tab below address bar

Tab at bottom of browser

Status Bar
Waterfox in the Media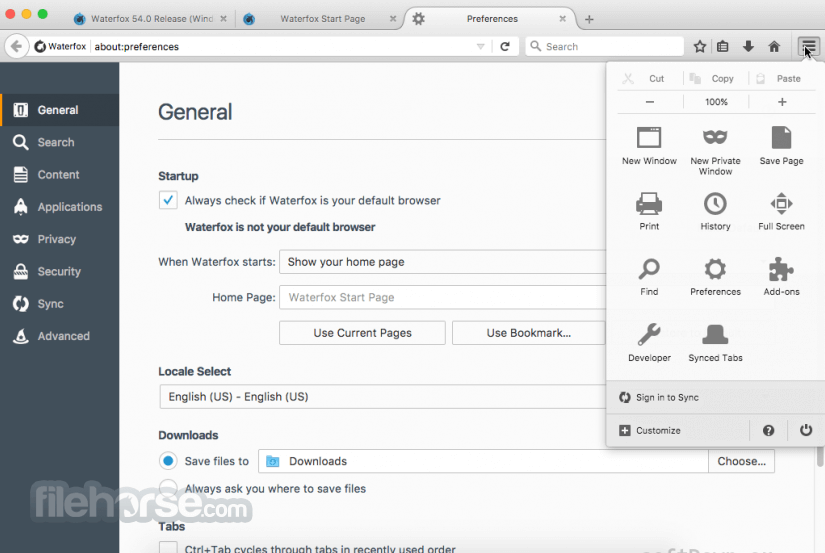 See the waves Waterfox has made
"The Open-Source Waterfox Browser Delivers a Balance of Privacy and Usability for Power Users Such as Developers and Server Admins"
Waterox Achieves Browser Balance
/
HostingAdvice.com
"The young developer behind web browser Waterfox, which boasts 4m downloads, is now hoping to create a viable rival to Google's ubiquitous search engine by offering users absolute privacy online."
New search engine from Waterfox founder aims to take a punch at Google
/
The Telegraph
"Alex Kontos has taken on the internet browser behemoths with the creation of Waterfox."
"What started out as a teenage hobby in his bedroom is rapidly becoming an influential presence on the internet and a serious rival to the main players."
Outfoxing the internet giants
/
The University of York
"It's incredibly difficult for new browsers to penetrate the market, but there's one such browser called Waterfox, which is attempting to gain a foothold into the market by claiming to be the fastest browser in existence by leveraging on the 64-bit architecture of the latest operating systems."
Can A New Web Browser Break Into the Market?
/
London Datastore
"In a week where we celebrate the best of the British technology industry, we speak to young developer Alex Kontos about building a successful web browser, a search engine that gives money to charity, Microsoft Edge and more."
From bedroom coder to building a Google search engine rival
/
Trusted Reviews
"Alex argues that we need to think hard about the future of the internet."
To Safeguard Innovation, the Internet Must Stay Open To All
/
The London Economic
82 k
Navigate More Quickly in 64 Bit Operating Systems
Older versions of Waterfox
It's not uncommon for the latest version of an app to cause problems when installed on older smartphones. Sometimes newer versions of apps may not work with your device due to system incompatibilities. Until the app developer has fixed the problem, try using an older version of the app. If you need a rollback of Waterfox, check out the app's version history on Uptodown. It includes all the file versions available to download off Uptodown for that app. Download rollbacks of Waterfox for Windows. Any version of Waterfox distributed on Uptodown is completely virus-free and free to download at no cost.
Waterfox Classic Download
Epic Browser
Waterfox Vs Firefox
See more