Product Description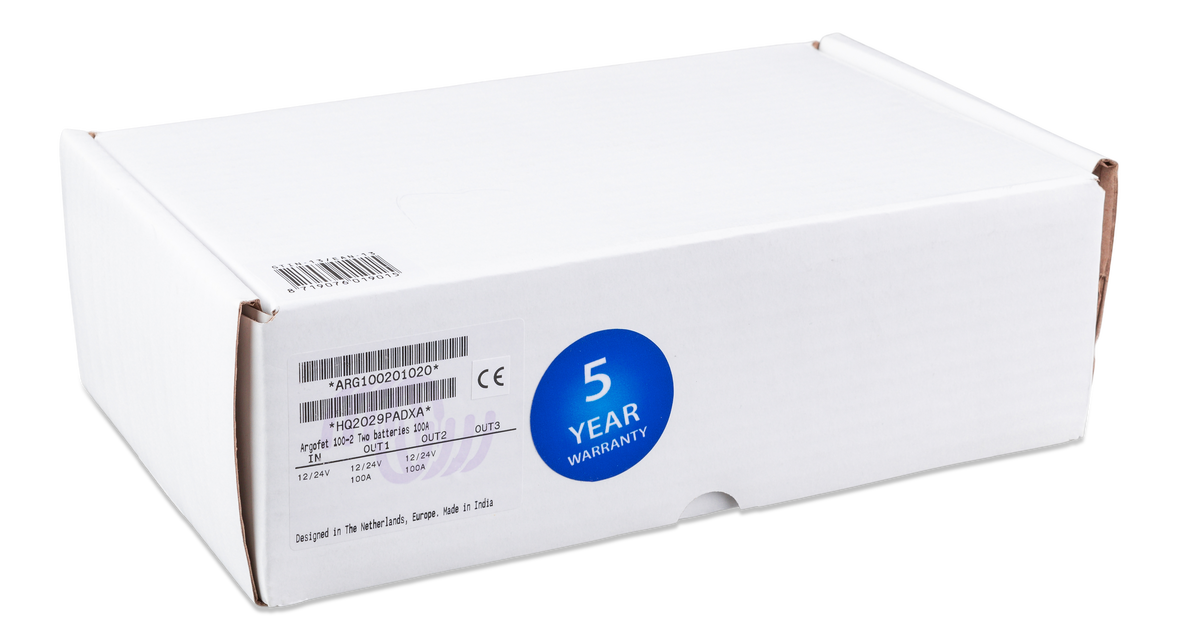 Details

Similarly to diode battery isolators, FET isolators allow simultaneous charging of two or more batteries from one alternator (or a single output battery charger), without connecting the batteries together. In contrast with diode battery isolators, FET isolators have virtually no voltage loss. Voltage drop is less than 0.02 volt at low current and averages 0.1 volt at higher currents.

Some alternators need DC voltage on the B+ output to start charging. Obviously, DC will be present when the alternator is directly connected to a battery. Inserting a Diode or FET splitter will however prevent any return voltage/current from the batteries to the B+, and the alternator will not start. The new Argofet isolators have a special current limited energize input that will power the B+ when the engine run/stop switch is closed.

Argo FET Battery Isolator
100-2
100-3
200-2
200-3
Maximum charge current (A)
100
100
200
200
Maximum alternator current (A)
100
100
200
200
Number of batteries
2
2
3
3
Connection
M8 bolts
M8 bolts
M8 bolts
M8 bolts
Weight kg (lbs)
1.4 kg (3.1 lbs)
1.4 kg (3.1 lbs)
1.4 kg (3.1 lbs)
1.4 kg (3.1 lbs)
Dimensions h/w/d
65 x 120 x 200 mm
2.6 x 4.7 x 7.9 inches
65 x 120 x 200 mm
2.6 x 4.7 x 7.9 inches
65 x 120 x 200 mm
2.6 x 4.7 x 7.9 inches
65 x 120 x 200 mm
2.6 x 4.7 x 7.9 inches
Additional Information
Victron Argo Fet 100-3
Additional Information

| | |
| --- | --- |
| Manufacturer | Victron Energy |
| Data Sheet | https://www.victronenergy.com/upload/documents/Datasheet-Argo-Fet-Battery-Isolators-with-alternator-energize-input-EN.pdf |
| Product Manual | https://www.victronenergy.com/upload/documents/Manual-Argofet-EN-NL-FR-DE-IT-ES-SE-TR.pdf |
Our office and warehouse facility is in Arundel just north of Southport on the Queensland Gold Coast, and we ship product Australia wide. For 20 years we have been working with the owners of boats, caravans and mobile homes; marine trade people, equipment dealers and boat/vehicle builders. ARGO FET-Recommended AC In cable/breaker size MultiPlus Load-Load-Load-Conn-G Start Batt+ Load+ Inverter Charger Alarm www.victronenergy.com victron energy BLUE POWER!i multiplus 12 1200 50 BMV-B2 / 100mA FUSE +B1 +B2 Charger Starter Battery 3A FUSE AGM Super Cycle Battery AGM 12-100 victron energy BLUE POWER STARTER BATTERY OFF mON xx AMP. Argo FET Battery Isolator - 100AMP - 3 Banks. Similar to diode battery isolators, FET based isolators allow simultaneous charging of two or more batteries from one alternator without connecting the batteries together. Compared to diode battery isolators, FET based isolators have minimal voltage loss.
Victron Argo Fet 100a
Victron Argo FET Battery Isolator, 08:04 AM Although many of us have successfully replaced the original diode battery isolators with Blue Sea ACRs, Victron has marketed an FET isolator that doesn't have the mechanical points that could wear out. Victron Energy bv / De Paal 35 / 1351 JG ALMERE / The Netherlands Phone: (+31) (0)36 535 97 00 / www.victronenergy.com / e-mail: [email protected] ARGO FET.