Prism for Mac (video format converter) Debut for Mac (video/screen capture) Express Dictate for Mac (digital dictation) Express Scribe for Mac (transcription software) FastFox for Mac (text expander) MoneyLine (personal finance software) Express Invoice for Mac (invoicing software) Express Accounts for Mac (accounting software). Express Invoice is must-have invoicing software when it comes to programs capable of managing.
The easiest and most complete invoicing system
Fast & EasyQuickly create invoices
Desktop & Mobile CompatibilityEasily sync data between devices
Supports Recurring InvoicesAutomate sending frequency
Access AnywhereSetting up Web Access
Invoicing TemplatesFree professional templates
Email, Print or FaxEasy customer communication
Easy invoicing software to manage and track your billing on Mac or Windows.
Create invoices, quotes and orders quickly
Automate recurring invoices and statements
Includes professional invoice and quote form templates
Express Invoice lets you create invoices you can print, email or fax directly to clients for faster payment. The reporting functionality allows you to keep track of payments, overdue accounts, sales team performance and more.
Download Express Invoice for Windows
Get it Free. A free version is available for home users or businesses with fewer than 5 staff members. Download the free version here, which does not expire and includes most of the professional version features.
Invoicing Features
Easily create invoices, quotes and orders
Customize invoices including logo, heading text, notes and more
Save or send invoices as PDF files
Schedule recurring invoices
Supports invoicing for multiple businesses
Access Anywhere
Email or fax directly from the application
Web access lets multiple users within the organization log in securely via your network or the internet
Securely access web interface on mobile devices
Generate invoices and quotes when you are offline or the internet is down
Additional Features
Automatically send statements to customers with overdue payments

Supports multiple tax rates for countries where required (e.g. Canada)

Reporting includes accounting, salesperson performance, unpaid invoices and more
Integrates with Inventoria to maintain inventory data across all aspects of your business
Invoicing Features
System Requirements
Download
Express Invoice Mac Free
- for Windows
- for Mac
- for iPad/iPhone
- for Android
- for Kindle
Screenshots
Questions (FAQs)
Technical Support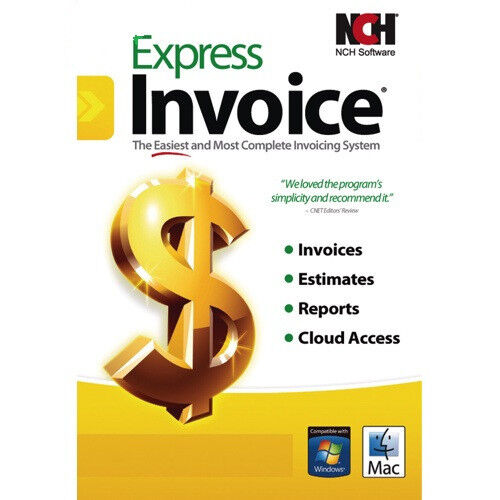 Pricing & Purchase
Related Software
Business Accounting
Personal Finance
Stock Control Software
Attendance Software
Flowchart Software
Graphic Design Software
Dictation Software
More Business Software...
2020-09-24 21:55:32 • Filed to: Business Tip • Proven solutions
Sending invoices is a requirement if you want to make money and invoice software makes this process easy. But if you are a small business or a freelancer, it may not make sense to fork out large amounts of cash just to send invoices using free invoice software for macOS 10.15/10.14/10.13/10.12. Lucky for you, there is plenty of free invoice software for Mac you can use and most of them are just as effective as the paid options. With these programs, the mundane task of invoicing can be taken care of, allowing you time to take care of other aspects of the business.
Best 6 Free Invoice Software for Mac
1. FreshBooks
This is another web-based billing invoice software for Mac that is designed to make it easier for you to generate, send, and manage invoices with ease. This free invoice software Mac also offers features that allow payment processing, making it a unique solution for businesses that want to reduce the actions customers have to take before payment. Once you have downloaded the program to your macOS 10.15, all you have to do is enter your contact information and you are ready to get started. The interface does look a bit outdated but that doesn't take away from the great features the program has.
Pros:
It offers you an option to process credit cards without leaving the program
2. Honeybook
The Honeybook invoice has been unrelentingly upgraded in line with feedback from clients, hence, its popularity has grown in leaps and bounds. The software sports a crisp, neatly layered UI that allows for smooth navigation and snappy location of files. It features a drag and drop file management system that allows users to easily add files to packages and new packages to invoices by dragging and dropping the new items in the package or invoice. Users can also easily label payments as paid or refunded by just clicking the three dots next to the payment. All these features are combined together to make it easier to create professionally looking custom invoices for various clients. These outstanding features apply to both the admin side and the client side.
Pros:
The main page is in the form of a flow chart to guide you through the steps of creating quotes and processing payments
Allows you to easily change your logo, company name, and file subtitles with just a click
Also smoothens user experience by adding clients in your workplace automatically under the 'Bill To' field when creating and sending files
3. Express Invoice for Mac
It is more than just free invoice software for Mac as it allows users to also manage the customers, create quotes, send invoices and even process the payments made. While the interface may not be as modern as other invoice programs, it comes with a great knowledge base that is designed to help you learn how to navigate the program. It is also very easy to get started. All you need is your contact information to set it up and you are ready to begin. It supports multiple types of businesses.
Pros:
The main page is in the form of a flow chart to guide you through the steps of creating quotes and processing payments
Cons:
Express Invoice Mac Francais
The items added when creating invoices are not automatically saved
4. Zoho Invoice
Zoho is online, free invoice software for Mac that has several modules to help users manage the ins and outs of billing and invoicing. The invoicing aspect of the program is specifically designed to manage all your customers and items to make it easy for users to create and send invoices on macOS 10.14, macOS 10.13, or lower. It is also very easy to use and because it is online-based, you can access it from any computer or smartphone via mobile apps. Its simplicity and user-friendliness make it one of the most sought-after invoicing programs in the business. The fact that it does have great invoicing features, makes it ideal for any business in any industry.
Pros:
You can use multiple currencies for a single business
It is available online and on mobile apps
Cons:
There is no live chat support, making it difficult to reach customer support.
5. BillQuick for Mac
BillQuick is free invoice software for Mac that offers many different functions including billing and invoicing, all geared towards project management. It is ideal for businesses in engineering, architecture, and freelance contractors. It offers a lot of different packages that allow users to choose the one with features geared towards their business. Because this program is mainly geared towards business project management, it can be a little bit difficult to navigate and is more complicated than some of the other invoicing software we've seen. Setting up your account is very easy but after that, the general operations become a little bit complicated.
Pros:
This free invoice software mac generates more reports that any of the other invoicing software
Cons:
Its main focus is projects and so it is more complicated to navigate
6. PDFelement for Mac
To create invoices in PDF, you need the best PDF management software in the business. PDFelement for Business will make it easy for you to create, edit, and manage invoices that are in PDF format on macOS 10.14. It is easy to use and allows users to easily share the created invoices. It is also an all-round PDF solution that you can use for all other documents in your business.
Pros
Express Invoice 2020
It is affordable and as such won't eat into your profits
Creating PDF forms and documents can be done in a single click
It is ideal for the conversion of PDF documents to other formats including Word, Excel, EPUB, and HTML.
It has protection features that help you password-protect the PDF documents and even restrict some actions
Editing PDF text as well as images is very easy
Compatible with macOS 10.15 Catalina, 10.14, 10.13 and 10.12
Free Download or Buy PDFelement right now!
Free Download or Buy PDFelement right now!
Express Invoice Mac
Buy PDFelement right now!
Express Invoice App
Express Invoice Free Version For Mac
Buy PDFelement right now!